Truck Driving School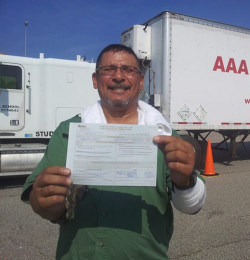 If you think you have what it takes to be a professional truck driver, get started today and pursue a challenging career that can offer you a steady paycheck and long-term job security. Just get in touch with AAA CDL School at your earliest convenience. We're a professional truck driving school serving Manassas and nearby areas, and we can not only train you to be a commercial truck driver, but we can also assist you in finding a paying job after you complete our program. We offer full-time and part-time classes, so one of our truck driving courses is sure to fit your schedule. If you put it off until tomorrow, it may never happen, so take the first step by calling or e-mailing us now to find out more about our truck driving school!
AAA CDL School is a truck school that's dedicated to providing our students with the right skills to qualify for a top-quality job in the trucking industry. When you successfully complete our truck driving school, you'll be armed with the training and driving experience necessary to find high-paying work with local or national companies.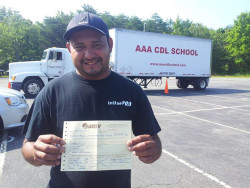 When you enroll in our truck school, we'll take the time to get to know your career interests, so that we can provide you with career placement services right from the start. We partner with well-known companies that are looking for trained truck drivers, and our partners regularly hand out letters of intent during orientation. We have a 98% job placement rating, so you can breathe easy knowing that you're in good hands when you choose us for CDL training school. 
If getting your truck driving credentials has been an aspiration that you've been putting off for a while, now is the time to start working toward reaching your goals! With both full- and part-time training courses available, you have the option of attending our CDL training school in Manassas on whatever schedule works best for you. With this kind of flexibility, you can continue at your current job during the week, while you train for a new career in truck driving on the weekend. AAA CDL School is the CDL driving school that will help you get the training and certifications you need to land a great job in the trucking industry!
Student Truck Rental Opportunities
When you've successfully completed your training at our CDL school, you can use the same trucks you learned on to take your commercial driver's test. At AAA CDL School, our goal is to make it easy for you to get your commercial truck driving license, so providing you with the use of our trucks for your test is just one way we can make this happen. To learn more about your options for trucking school, call or e-mail us today.