Driver Training Courses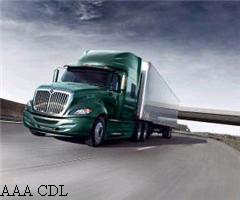 Have you been pondering a career move lately? Does the idea of hitting the open road and earning a steady paycheck appeal to you? If you're thinking about taking truck driving classes, AAA CDL School in Manassas can help you get started and set you on a path to success.
Our CDL training classes can get you qualified and ready to accept job offers in as little as four to eight weeks. We provide training for both Class A and Class B commercial driver's licenses and offer either full- or part-time CDL classes. If you choose our full-time CDL training class, you can graduate in just one month. If you have a job during the week that you want to maintain while you learn, then our weekend CDL classes will allow you to keep working while you earn your license. By attending our all-day driver training course on Saturday and Sunday, you can complete our CDL training course in a short two-month period and be out on the road in no time. Regardless of which option fits your schedule best, we're the driver training course in the Manassas area that will get you ready for the road. To learn more about our courses that can put you behind the wheel of a bus or truck, call or e-mail us today!
Our CDL training classes are hands-on, and our instructors have extensive experience in the field! When you turn to us for a truck driving course, we'll work with you through every step of learning how to be a professional truck driver, including helping you to prepare for getting your CDL driver's license. At AAA CDL School, we're not only committed to providing future truck drivers with the best CDL training classes available, but we'll also play an active role in getting you hired after you graduate. Some 98% of the students who complete our program are able to land a job after completing our programs, so you can rest easy knowing that you'll have employment opportunities in the future. 
If you're worried about whether you can afford our CDL training course, get in touch with us right away to speak to one of our representatives about your options. We're proud to be affiliated with SkillSource Group, a non-profit entity of the Northern Virginia Workforce Investment Board that can often help students find financial assistance for truck driving classes. We also have financing options for CDL classes, and we'll find a way to work with you so that you can achieve your dream of becoming a professional truck driver.
ReCertification Classes
The CDL driving classes at AAA CDL School also included a recertification class, for students who have failed to pass the written portion of the test three times. CDL recertification is required by law for those who would like to give the test another try, and our goal is to provide our students with every possible opportunity to obtain their CDL license and get a job in the trucking industry. Offering the recertification class is one of the many ways we help ensure your future success, so don't hesitate to turn to us if you need help with recertification.
Comprehensive Refresher Classes
If you already have a truck driving license but haven't driven a truck professionally in a long time, a refresher class could help you brush up your skills and get back to work. Our refresher CDL classes are geared for truck drivers who have some experience but are out of practice, and they can easily help you prepare you to get back out on the road. If you're able to tell trucking companies that you recently took a refresher driver training course, you'll have a much easier time finding a job. 
Don't put off your dreams of changing your career for another moment. Instead, call or e-mail us today for more information on our CDL training class options, recertification, and more!