CDL Class A Training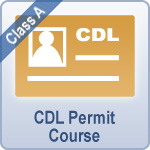 Getting a Class A commercial driver's license can open the door to a plethora of job opportunities with practically unlimited earning potential. If you've been thinking that the time is right to get a CDL A license, AAA CDL School is here to make sure it happens for you. In the past, we've provided CDL A training to hundreds of people just like you, who want to secure a good job in the transportation industry. Our comprehensive CDL class will give you the knowledge, experience, and confidence necessary to obtain your CDL A license. When you choose to study with us, we'll also take the time to help you land a good job after graduation! We help our graduates get their CDL A license and a job in the industry, with a 98% success rate in job placement after completing our course. So don't hesitate to get in touch with us today and get the ball rolling. We can't wait to assist you in getting on the path to a better career in the trucking industry!
At AAA CDL School in Manassas, you can get the training you need to pass your CDL A license test in as little as four weeks, and then you'll be well on your way to getting a job as a trucker. Once you pass the test, you're qualified to drive anything on the road, with the exception of motorcycles, and this can open up many exciting new career opportunities for you. Contact us now to speak to us about your options for the CDL A training you need to start your career in truck driving. We'll also discuss the financial options you have for completing CDL Class A training.
CDL A Training Options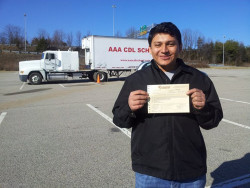 With some local trucking schools, finding the time to attend classes can be a real problem. However, when you sign up for a CDL class with AAA CDL School, we'll find a class schedule that works for you. Our classes are ongoing, so you can start at any time. Plus, in addition to the full-time CDL A training course we offer (Monday–Friday), we also offer offer weekend CDL training in Manassas, which is perfect for students who need to hold down a steady job during the week. We will work with you to help you set up a CDL class schedule that doesn't interfere with the rest of your life and ensure that you can graduate in just a few short weeks. 
When you complete the four- to eight-week program at our CDL Class A school, you'll be well-prepared to tackle your CDL A license test and get a job in the transportation industry. Best of all, from the first day of CDL class at AAA CDL School, we will begin helping you get a position with a reputable company. After you fill out a job application on your first day of CDL class, we'll discuss the type of job you want and provide you with the career counseling necessary to obtain it. During orientation, you may also receive a letter of intent from companies that we regularly work with. Intention letters will be based on your application and the completion of our CDL Class A training program. If this sounds like the great career opportunity you're looking for, call or e-mail AAA CDL School at your first opportunity!