Bus Driver Training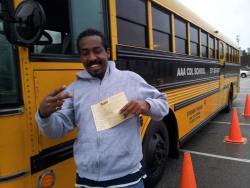 If your job options seem rather limited right now and you're looking for a new opportunity, then getting a bus driver's license can be your ticket to steady employment and a more secure financial future. At AAA CDL School, our licensed, bonded, and insured instructors will teach you to pass the bus driving test and help you find a position as a bus driver. We have a 98% success record of helping our graduates get a a good job after qualifying for a commercial driver's license. Whether you're interested in a career in charter bus driving or metro bus driving, we can help. Get in touch with us today to find out about our flexible class schedules, affordable prices, and job placement services. With our assistance, you can complete the commercial drivers training classes you need to pass the bus driving test and be well on your way to a new career!
At AAA CDL School, we're dedicated to helping you achieve a new career in the bus driving profession. When you work with us, we'll not only offer you top-notch bus driver training and job placement assistance, but we'll also help you build the skills and make the contacts you need to land a good job after you complete our program. Our graduates regularly go to work with charter bus companies and city transportation departments in the local Manassas area and across the nation. Plus, getting a job as a metro bus driver can also lead to other employment opportunities, such as becoming a train driver, so there's often the potential for you to advance in your new job and increase earnings even more. 
Bus Driver Training Options
If you've been mulling over the idea of what it takes to secure a bus driver's license and find a good job as a charter bus driver or city bus driver, AAA CDL School is here to provide the bus driver training and job placement help that will put you in the reach of your goals. We understand that everyone has a different schedule, and that's why we're proud to offer flexible learning opportunities. You have the option to attend our bus driver training classes on a full-time or part-time basis, and we can work with you to find funding for your studies or even provide you with financing. If you currently have a full-time position, we offer weekend classes that will allow you to complete CDL bus training while you hold down your existing job. 
Bus driving classes are ongoing now, so contact AAA CDL School right away to get get the help you need to pass your bus driver license test and secure a great future in charter or city bus driving. We have the experienced training instructors, the flexible commercial drivers training schedules, and the affordable pricing that will ensure your success in our bus driving course. Do what's necessary to change your life today and get a career that offers you professional freedom and earning potential! Find out more about our bus driver training courses in Manassas.