Services Offered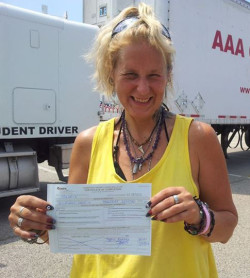 If you're looking for a reputable truck driving school in the Manassas area, there's no need to look further than AAA CDL School. We offer comprehensive truck driving classes that will help you break into the trucking industry and secure a good job with steady pay. With our help, you can easily earn a CDL A license or a CDL Class B license in as little as four weeks. We also offer bus driver training as well as refresher and re-certification courses. Get in touch with us right away to discuss our offerings and take the first step toward finding amazing truck driving jobs that will secure your financial future!
At AAA CDL School, you can begin our truck driving classes at any time. New classes are always forming, and we have a wide range of scheduling options designed to provide you with maximum flexibility. If you'd like to pursue a full-time driver training course, we offer four-week programs that meet Monday through Friday. If you already hold down a full-time job and would like to continue to work as you learn, you can sign up for our eight-week weekend program that meets on Saturdays and Sundays. When you turn to us for information on our truck driver training course options, we'll help you to determine what's best for your specific needs. In addition to offering flexible class schedules, we also provide some of the most affordable rates for CDL classes in the Manassas area. If you want to work with a truck school that has your best interest in mind, AAA CDL School should be your top choice.
Help Securing Truck Driving Jobs
When you attend truck school at AAA CDL School, you'll receive more than just top-notch training from our licensed, bonded, and insured team. You'll also receive first-class assistance with finding the best local and long-distance truck driving jobs. From the moment you enroll in our truck driving school, you'll get extensive help with securing a position with a reputable trucking company. Whether you want to pursue a CDL A license or a CDL Class B license, we'll work with you to determine what your career goals are and then pair you with professionals who can offer you steady employment. During orientation, you may be offered a letter of intent from one of the many reliable companies that we regularly work with, and that means you'll have a job waiting for you once you complete your course. If you're ready to start looking at your options for careers in truck driving, get in touch with AAA CDL School today!