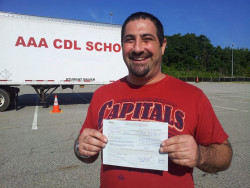 Are you looking to change careers and get into the fast-growing trucking industry? If you're thinking about changing your line of work, AAA CDL School is here to help. Serving Manassas and beyond, we provide truck driving classes that can lead to a CDL A license or CDL Class B license. Whether you're looking for the professional freedom that truck driving jobs offer or you're in search of an easy way to increase your earning potential, a driver training course is the right move. Get in touch with us today to discuss your options for truck driving school. We're ready to help you succeed by giving you the hands-on training necessary to land a great trucking job!
Licensed, Bonded & Insured
Flexible Training Options
Affordable CDL Classes
CDL Class A and B Licenses
Career/Job Placement Assistance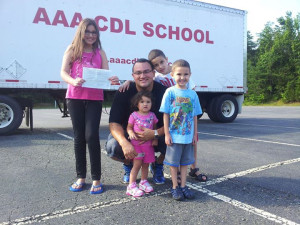 Located in Manassas, VA, AAA CDL School offers truck driving classes to locals who are looking for the right education to increase their earning potential. We're proud to extend our driver training course options to residents of Alexandria, Arlington, Fredericksburg, Leesburg, McLean, Sterling, Woodbridge, Fairfax, Washington, DC, and environs. If you're looking for a truck school that will give you help and support throughout your entire course, look no further than AAA CDL School. Whether you turn to us for help obtaining a bus driver's license or a CDL A license, we'll be by your side from the time you first contact us to the time you secure a job after graduation. We'll put you in touch with reputable trucking companies right from the start, so you can get your foot in the door and line up truck driver jobs for after your training is complete. Not every truck school in the area will offer you the extensive career assistance you'll find when you choose to study with AAA CDL School, so count on us for both the truck driving classes and job placement solutions you need.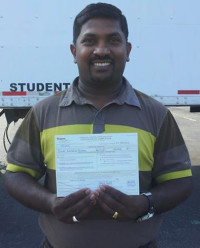 At AAA CDL School, we believe that top-quality CDL classes shouldn't cost a fortune. That's why you can expect to get affordable rates when you do business with us. Whether you're interested in pursuing a CDL Class B or CDL Class A license, we'll make sure that you don't stretch your budget too thin. If you need financial assistance to help you obtain your bus driver's license or other commercial driver's license, we can put you in touch with the local non-profit SkillSource Group, where you may be able to get tuition assistance. We also have financing options available, so don't put off getting in touch with us to find out more about our CDL classes.
For your peace of mind and security, AAA CDL School is fully licensed, bonded, and insured. When you need top-quality instruction, affordable pricing, and a commitment to student satisfaction, there's no better truck driving school than AAA CDL School. We have a 98% placement rate after graduation, so you can look forward to having lots of great opportunities when you finish your training. Call or e-mail us today to get enrolled in an exciting new trucking course!